The continues to fall on Tuesday, after declining 1.0% at the start of the week. Currently, the DAX is at 12,227, down 0.48% on the day. In economic news, posted a gain of 0.6%, ending a nasty streak of four straight declines. However, this reading was shy of the estimate of 1.6%. The EU released its economic forecasts of member states. On Wednesday, Germany releases and the ECB releases the minutes of its April policy meeting.
Equity markets are in red territory on Tuesday, as the fallout from President Trump's tariff threat has sent the markets reeling. The index has fallen close to 1.6 percent since the weekend. On Sunday, Trump said that the U.S. would raise tariffs on $200 billion worth of Chinese goods as early as Friday, from 10% to 25%. Trump sounded nonchalant about the trade talks, saying that even if an agreement wasn't reached, the U.S. would benefit from the new tariffs. On Monday, Chinese officials had said it would cancel the talks, but this turned out to be an empty threat. Chinese Vice Premier Liu He is scheduled to lead a Chinese delegation to Washington. Will the new U.S. tariffs be rescinded? Treasury Secretary Steve Munchin said that the tariffs could be cancelled when the talks resume. Such a move would restore investor confidence and could trigger a rebound on the stock markets, after a very rough start to the week.
The week started with positive economic data, but the was unchanged on Monday. have been stronger than , and continued to point to expansion in April. improved to 55.7, just above the estimate of 55.6. This marked the strongest score since September. The eurozone release dipped to 52.8, but still beat the forecast of 52.5. jumped to 5.3, well above the estimate of 1.1. As well, slowed to 0.0%, above the estimate of -0.1%.
Economic Calendar
Tuesday (May 7)
2:00 German Factory Orders. Estimate 1.6%. Actual 0.6%
5:00 EU Economic Forecasts
Wednesday (May 8)
2:00 German Industrial Production. Estimate -0.5%
7:30 ECB Monetary Policy Meeting Accounts
*All release times are DST
*Key events are in bold
DAX, Tuesday, May 7 at 6:40 DST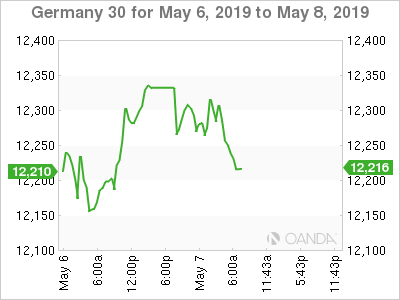 Previous Close: 12,286 Open: 12,294 Low: 12,215 High: 12,320 Close: 12,227
Original post