The index is in red territory on Tuesday. In the North American session, the pair is at 7,418, down 0.29% on the day. On the release front, remained pegged at 13 points for a third straight month. Later, the U.K. releases the . On Wednesday, the U.K. releases and Net Lending to Individuals. Investors will be keeping a close eye on the Federal Reserve, which will wind up its monthly meeting and issue a rate statement.
The FTSE is showing some signs of slowing down, after recording a rare losing week. Still, it's been a strong April for the index, which has climbed close to 2.0%. The economic outlook for the U.K. is uncertain, has consumers remain in a gloomy mood. Brexit has been delayed but not resolved and recent economic data has been lukewarm. Still, the FTSE has been largely immune to these concerns and has sparkled in 2019, with gains of 9.5 percent.
The Federal Reserve has said it expects to hold interest rate levels for the rest of the year, and the most recent inflation numbers will reinforce that stance. The , which is the Federal Reserve's preferred gauge for inflation, came in at 0.0% in March and 0.1% in February (the two events were released on Tuesday due to the government shutdown earlier this year). On an annualized basis, the indicator gained 1.6%, just shy of the estimate of 1.7%. There was better news from consumer spending, which jumped 0.9% in March, compared to the estimate of 0.7%. The strong reading was a result of increased spending on motor vehicles and health care.
Economic Calendar
Monday (April 29)
19:01 British GfK Consumer Confidence. Estimate -12. Actual -13
Tuesday (April 30)
3:40 British MPC Member Ramsden Speaks
19:01 British BRC Shop Price Index
Wednesday (May 1)
2:00 British Nationwide HPI. Estimate 0.1%
4:30 British Manufacturing PMI. Estimate 53.2
4:30 British Net Lending to Individuals. Estimate 4.5B
14:00 US FOMC Statement
14:00 US Federal Funds Rate. Estimate
14:00 FOMC Press Conference
*All release times are DST
*Key events are in bold
FTSE, Tuesday, April 23 at 11:00 DST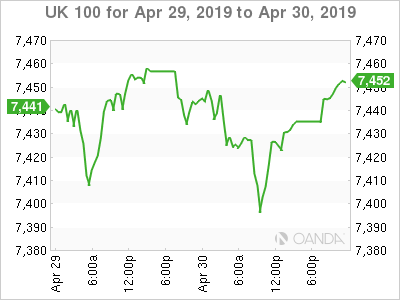 Previous Close: 7,440 Open: 7,440 High: 7,392 Low: 7,456 Close: 7,418
Original post