The is unchanged on Tuesday, after a quiet start to the week. Currently, the DAX is at 12,328, down 0.03% on the day. In economic news, it's a busy day. German remained pegged at 10.4, just above the forecast of 10.3 points. Investors will be keeping a keen eye on , with an estimate of 0.5%, and , which is expected to rise slightly to 0.3%.
On the employment front, there were solid April numbers out of Germany and the eurozone. German came in at -12 thousand, beating the estimate of -6 thousand. In the eurozone, the dropped to 7.7%, its lowest level since 2008. There was more positive news out of Spain, the eurozone's fourth-largest economy. by 0.7% in Q1, unchanged from the previous quarter. Inflation improved to 1.5% in April, marking a 5-month high.
Is a U.S-China trade deal imminent? Negotiations will continue on April 30, in Beijing, and U.S. Treasury Secretary Mnuchin waxed positive on Sunday, saying that the talks were in their "final laps". However, Mnuchin cautioned that the talks could still end without an agreement. The nasty trade war between the two largest economies in the world has rocked the global economy and curbed growth. If the sides can hammer out an agreement, investor risk appetite would likely soar and boost equity markets.
Economic Calendar
Tuesday (April 30)
2:00 German GfK Consumer Climate. Estimate 10.3. Actual 10.4
2:00 German Import Prices. Estimate 0.3%. Actual 0.0%
All Day – German Preliminary CPI. Estimate 0.5%
3:55 German Unemployment Change. Estimate -6K. Actual -12K
5:00 Eurozone Preliminary Flash GDP. Estimate 0.3%. Actual 0.4%
5:00 Eurozone Unemployment Rate. Estimate 7.8%. Actual 7.7%
Wednesday (May 1)
14:00 US FOMC Statement
14:00 US Federal Funds Rate. Estimate
14:00 FOMC Press Conference
*All release times are DST
*Key events are in bold
DAX, Tuesday, April 30 at 8:00 DST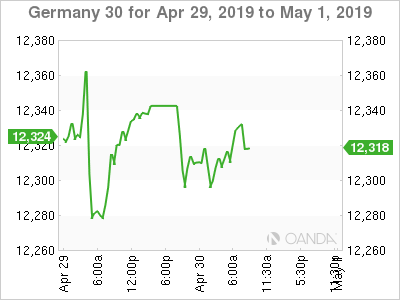 Previous Close: 12,328 Open: 12,300 Low: 12,297 High: 12,336 Close: 12,328
Original post